I finally found it!! The perfect interview suit (for me). A few months ago I pictured a beautiful gray tweed suit, no shoulder pads, that made me look skinny and professional. After months of searching through crappy petite suits, I found a winner, on sale!! For a while, I thought I was going to have to go beyond my budget a purchase a beautiful (but expensive even on sale) suit from Ann Taylor Loft. Then, while doing some after Christmas shopping with family I found it.
This is the exact suit
, except it looks much better on person and, because it is petite, it fits my short arms and legs and I don't need to get it hemmed.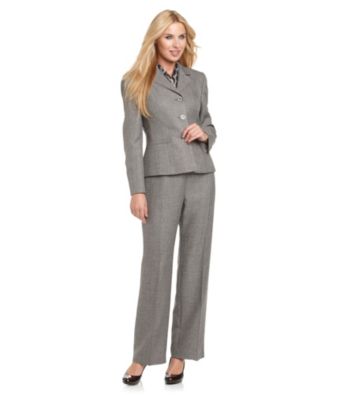 So now I feel a little bit less stressed as I apply for jobs (endlessly it feels like!). Already in the week I have been home I have applied for 10 jobs!!! It makes me feel better that there is more out there than I thought (I am mainly applying for public library reference jobs, academic reference/instruction jobs, and any e-librarian or technology related position because of my qualifications). It is somewhat comforting (I have to remind myself) that I fit every single requirement and most of the desired qualifications for these jobs. I've got a good start. However, it's a bit scary to send out these pieces of yourself- each job application is like a bit of hope and every time you don't hear anything it feels like that bit of hope is shredded. Luckily, it's still early yet- I graduate in May! I've got time on my side, for now.
With job apps turned in and an interview suit in my closet there is nothing left to do today but read and rewatch
Downton Abbey
(I am such a geek for Masterpiece Classic!!).